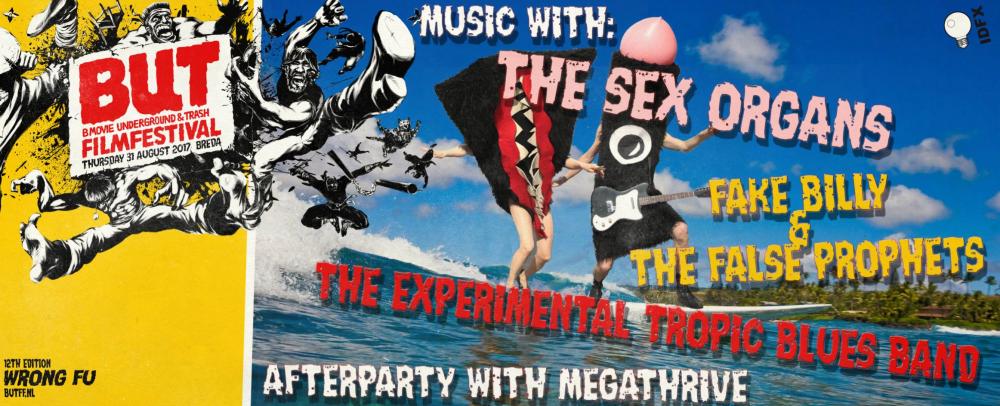 The Sex Organs
Here are The Sex Organs! Inter-galactic sex 'n' roll from outer space! A primitive, trash, garage, space odyssey! The Sex Organs were formed in 2014 and played their debut show at the legendary Funtastic Dracula Carnival in Spain and immediately became a cult act! Dressed as gigantic male and female sex organs, they play wild, sweaty trash and roll sending the listener into an explosive climax song after song! This is as primitive as it gets - stand-up drum kit, a guitar and infectious lyrics about the sexual condition of the modern times we live in!
Fake Billy & The False Prophets
A name that creates as many questions as expectations, and that's exactly the way Fake Billy likes it. Raw energy, strong songs and catchy hooks. Their first performance at 05:30h at some trash-party ended in blood lying next to the toilet and sweat dripping down the walls. Since then cellars, bars and festivals have ensured Fake Billy & The False Prophets developed into a razor sharp band with a tight garage-trash-rock 'n roll sound. A sleazy evening with swinging hips and fists in the air. Drop down your pants and start dancing.
The Experimental Tropic Blues Band
Raw, primitive bluespunk but most of all a total surrender to rock 'n roll! These tireless globetrotters have been raging on the stages of Europe and the USA for more than ten years, with the same passion and unpredictability. With their upcoming documentary Spit'n'Split - The Experimental Tropic Blues Band that will be featured on our festival we just couldn't resist inviting them over to rock the house! So get that combo-ticket to get the full experience!
After party with Megathrive
A local artist that makes music on a Gameboy using a unique blend of catchy melodies and pounding beats to get your feet moving. This young chiptune violence from Breda has seen a local stage before at the (former-)Boulevard and after this BUT-fest he will be back after several international shows. Get ready to move on those '89 Gameboy sounds.